It´s a real pleasure for us to have Sotheby's International Realty as our main sponsor in Golf Ibiza.
Today, at the Golf Ibiza facilities, a partnership agreement with Sotheby's International Realty has been signed at national and international levels, for which Sotheby's will be the official sponsor of Golf Ibiza. "We both share the same values of trust for our clients, as well as the commitment to give all our clients quality service and for them to have their best experience on the island of Ibiza"; says Toni Massó, production coordinator at azuLine Hotels.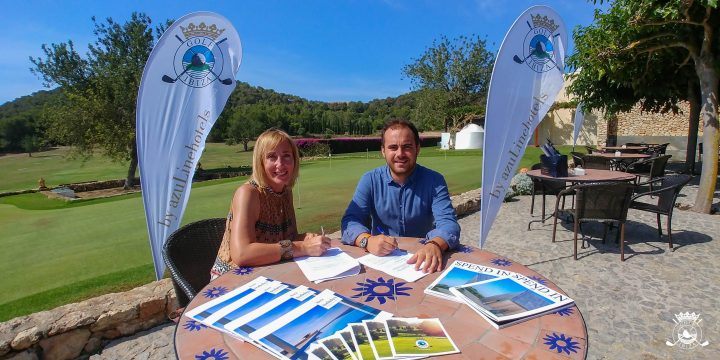 "Variety is the spice of life in Ibiza, so together we will try to offer the best of the island, the best properties together with the best experiences," Says Bárbara Caprara, Director at Ibiza Sotheby's International Realty.
Golf Ibiza by azuLinehotels
Golf Ibiza has been our main gamble of the year.  Three months ago we started to manage the courses and it has been a challenge to re-condition more than 10 km of course and all its areas and facilities. We are very happy with the result and with being able to offer all golfers and golf enthusiasts the possibility of practising this great sport in Ibiza's unique environment.
Golf Ibiza has two courses, the 18-hole course, Ibiza, and the 9-hole course, Roca Lisa. In addition, it has the 19th Hole restaurant; a restaurant of Mediterranean haute cuisine where all the clients can enjoy beautiful views and exquisite food.
Ibiza Sotheby's International Realty
Ibiza Sotheby's International Realty belongs to the international real estate network, Sotheby's International Realty®, which has more than 880 agencies in 70 countries worldwide.
It offers real estate services in Ibiza, Formentera, Mallorca and Menorca, to buy or sell first class properties, be it luxury houses or villas, penthouses, exclusive apartments or another kind of properties.
Golf Ibiza by azuLinehotels