Next Saturday, September 30th, there will take place in the 'Restaurant Hoyo 19', the presentation of the new course 2017/18 of the Golf Ibiza Childrens Academy. At 10:30 am the first parent meeting will be held explaining the annual calendar of the course and the groups. In addition, there will be detailed in depth the training to be carried out during the course.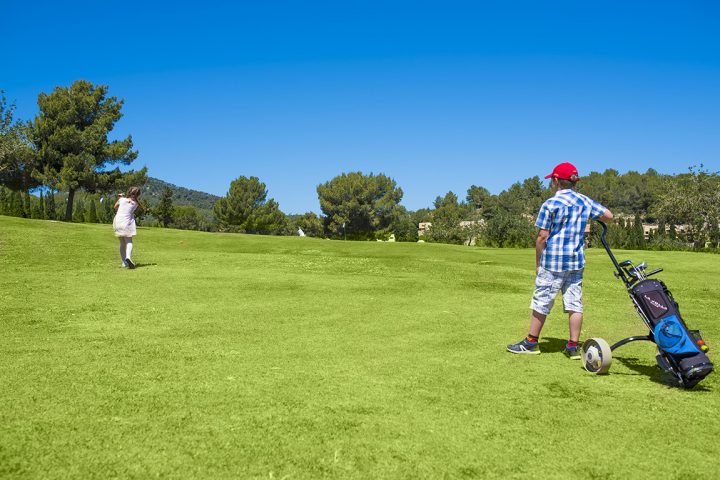 October 7th is the starting day in Golf Ibiza for the new course of the Childrens Golf Academy, with the help of our teachers David Álvarez and Marcos Juan, Sports Director of Golf Ibiza. This year the course will be formed of small groups that will be based on level and age, and with activities tailored to the needs of each group of children. Children will learn to develop their ability to concentrate with this exciting sport, in the company of their friends in a unique natural environment.
During the course the techniques of golf will be intensified without leaving aside the fun, the contact with nature and the good values of improvement, sportsmanship and friendship. The course schedule will be from 9:30 a.m. to 5:00 p.m. on Saturdays and Sundays.
Schedule and Timetable
The course schedule will be from 9:30 a.m. to 5:00 p.m. on Saturdays and Sundays.
Registration fees
70 euros / month, 1.30 hours tuition per week.
80 euros / month, 2 hours tuition per week.
100 euros / month, 3 hours tuition per week.
Information and registration
For registration please approach the reception of Golf Ibiza where you will be provided with the registration form.
Deadline for registration: Wednesday, October 4th, with the possibility of incorporating more children according to requests.
Minimum age 6 years and maximum age 21 years.
Materials needed during the course: must have water and cap.
↬Download the Registration Form
Do you want to know more about the course, of the benefits of practicing this great sport and all that your children will learn? Come to the presentation next Saturday September 30th at the 'Restaurant Hoyo 19' and find out everything you need to know.
We are waiting for you!
Golf Ibiza by azuLinehotels