This time we are going to talk about the long bunker shot or bunker shot from the fairway.
As we have seen beforehand, in the bunker shot, the ball lays on the sand, which does not help us make the shot; it is an obstacle which makes it more complicated as well as more exhilarating. Therefore, we must take more care with our shot and take into account a series of changes in the position of the body, the position of the ball and the choice of the club.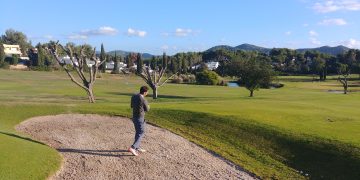 When we face a shot from a fairway bunker and we still have a fair distance to reach the green, the first thing is to choose the correct club. I advise you to take the next club up if the slope and the position of the ball allow it.
Once the club is chosen, the key is to hit the ball cleanly. What we do not want is to hit behind the ball. The feeling, which can help many amateurs, is to imagine a shot completely opposite to that of a greenside bunker. In this kind of stroke, the key is to hit first the sand and then the ball, whereas with the fairway bunker we have to hit the ball first and then the sand. For this reason, we take the next club up, as the impact will not be so good and we will not make the full distance as we normally would.
How to make the long bunker shot?
To achieve this there are several guidelines to keep in mind that can be very useful:
– We must hit the ball from the top downwards, that is, make a more vertical swing with the position of the ball moved back, fractionally, and more towards the right foot.
– It is very important to move as little as possible to avoid making a mistake in the impact. To do this, we will hold the club a little lower and make a softer swing. In this way you will have control over your body and only move your arms. Otherwise, it is very easy to make a bad shot.
-Another important aspect when you face a fairway bunker is to study the slope. The more inclined it is, we have to choose a more open club. More than once, we will have to forget about setting the ball on the green, which is our objective.
Greetings from Golf Ibiza and a good round!
Golf Ibiza by azuLinehotels