What is the Lob Shot in Golf?
The Lob in golf is a short distance stroke with a lot of height and a lot of brake. With this golf stroke the ball is very high; as what is intended is that the ball lands on the green without rolling across it. It is a stroke that can be of great help to us time and time again, if we are able to do it correctly.
In what situation is the Lob Shot usually used?
The Lob Shot is usually used when the flag is short on the green and there is no possibility of bouncing the ball before the green because there is a bunker, the rough or a tree, in short, it is usually used when we have an obstacle blocking our flag.
This kind of shot is also used in golf when the green is downhill and it is difficult to slow the ball. These are situations that force you to lift the ball very fast and high so you can brake quickly.
Which club is used for the Lob?
For this type of stroke you need to use the most open club of the golf bag, a Sand wedge or a Lob wedge.
Depending on the sand wedge we choose, the way we use the club is different. If it is between 52 and 56 degrees, it is highly recommended to hold the club outwards in order to undercut the ball, giving it additional lift. Clubs over 58 degrees are more productive starting behind the line of the objective. In any case, it is very important that your grip is relaxed and allows a marked twist of the wrists.
How to stand when making a Lob?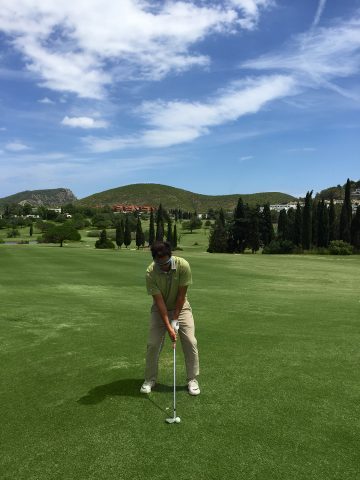 1. In the stance move the ball forward a little to add degrees to the angle of the club.
2. Separate the feet sufficiently to lower the center of gravity of the body.
3. Lower the club rod to add more degrees from the club.
How to execute the Lob?
The image to execute the Lob is to make a wide, long movement with a speed almost equal to the rise and the fall of the club. Although with training and confidence, you can accelerate more and more following the ball. This requires suppleness and less pressure in the hands than usual. Turning with the body following the ball is very important to ensure a good impact and that the face of the club does not close.
The Lob is a very demanding stroke that requires a lot of technique, training and confidence. We recommend using this kind of stroke only if you are obliged to and in the case you have a lot of confidence and security in your technique and execution.
Great golf and see you soon at Golf Ibiza!