Golf Ibiza held on April 7th and 8th the II Prueba del Circuito Senior 2018 by the Balears Golf Federation – sponsored by SOFT LINE. The tournament is held 5 times a year throughout different golf camps in the Balearic Islands and the 4 best results automatically enter the Balear ranking.
Over 100 players took part in the tournament and 87 of them flew in from different locations in Mallorca.
At 2:30 pm on Saturday, April 7th, 62 players head to the field and the incredible Balearic golf tournament in the 18 holes course had begun.  The challenge ended at sunset. Amongst the players, Anne Marie Muller and Pedro Antonio Salvá stand out with 36 and 43 points respectively. In scratch, Isabelle Middelmann scored 16 points and Francisco Romo 29.
On Sunday, April 8th, from 9:30 am to 2:00 pm 43 golfers head to the "Golf de Ibiza" golf course to kick off an incredible competition. Elaine Von Arx (35 points) and Pedro Fernández (44 points), were the most outstanding golfers of the competition taking into consideration the handicap ratings. In scratch,  Elaine Von Arx and Juan Díaz were the stars.
At the end of the 18 Holes, all players enjoyed a delicious menu at the Hoyo 19 restaurant to celebrate the completion. After a pleasant time at Hoyo 19 restaurant, we proceeded with the results and awards for the four best players. In addition, there was a raffle at the Hoyo 19 Restaurant.
On the behalf of Golf Ibiza, we would like to thank the Federación Balear de Golf for holding this event, to all our Golf Ibiza staff for making this event possible and, to all players who took part in the tournament; especially those who flew from Mallorca. Our most sincere congratulations to the winners of the II Balear Senior Golf Circuit Tournament by the Balearic Golf Federation.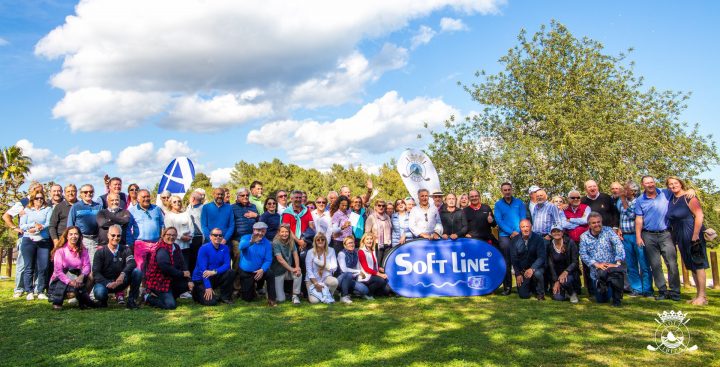 PHOTO GALLERY
1st DAY  – II Prueba Circuito Senior FBG SOFT LINE – Saturday, April 7
2nd DAY – II Prueba Circuito Senior FBG SOFT LINE – Sunday, April 8
Classification
Male Handicap
Pedro Fernández (44)
Pedro Antonio Salvá (43)
Female Handicap
Anne Marie Muller (36)
Elaine Von Arx (35)
Scratch
Francisco Romo (29)
Juan Díaz (27)
Elaine Von Arx (25)
Isabelle Middelmann (16)
Golf Ibiza by azuLinehotels