Would you like to enroll in golf lessons with our team of professional couches?
We want to make it easy for you. That is why we created this special offer and we would like to invite you to come try our golf classes from January to March — including weekends — yes, you may now sign up any day of the week and try it for yourself why we all love golf.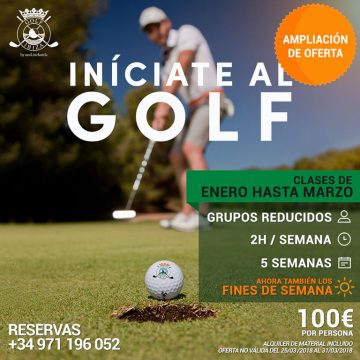 Our privileged location surrounded by Ibiza's stunning nature and peaceful environment, make the perfect combination for a great golf round in either of our 18 holes course or 9 holes course.
This incredible offer exclusively for beginners includes a 2-hour class in which you'll be given all the essential tips to become a great golf player and achieve your best swing. You'll also take part in a long game and be taught the perfect technique to improve your approach putting. Golf equipment will be provided to all players. Sing up now for 100€/month. For additional information and bookings, please call 971 19 60 52.
Conditions
➤ Introduction to golf. (Long game and approach to putting.)
➤ Groups of 6-10 players. (Smaller groups can be arranged upon request.)
➤ 2-hour classes per week. (Total of 5 weeks.)
➤ Golf equipment is provided.
➤ 100€ per person.
Info and Bookings
Phone: 971 196052
E-mail: golfibiza@azulinehotels.com
Please wear comfortable sportswear and be prepared to have fun while learning from our professional couches the best golf techniques. What are you waiting for? Come join us.
Golf Ibiza by azuLinehotels