On Saturday, June 23rd Golf Ibiza held the Children's Academy School Year End Tournament at Golf Ibiza. It was a fun day with all the young ones giving their best swing.
It was a great opportunity for the children of Golf Ibiza's Children's Academy to learn new golfing skills along with learning the true values of friendship and sportsmanship in a unique environment in Ibiza.
The students of the 1st Category, with a handicap lower than 20, headed to the 18-holes golf course at 09.00 a.m., while the students in Category 2, with a handicap higher than 20, headed to the 9-holes course at "Roca Llisa" golf course at 10:00 a.m. Following the 2nd Category, it was the turn for the students in the 3rd Category to head to the "Roca Llisa" golf course to play in 3 different holes and the moment for our little ones in a Special Category with 1 Hole.
More than forty students from the Children's Academy gathered at Golf Ibiza to play this exciting and fun tournament which allowed the children to show their great golf skills and practice all the knowledge acquired during this season.
At the end of the tournament, an aperitif was served next to the terrace of the Hoyo 19 Restaurant. The trophy ceremony took place right after and the top finishers were awarded for their great golf skills.
Jaime Jaume Julve was the first classified in the 1st category, with 39 points, followed by Leire Otero. Mauro García Vallejo, with 25 points, was the winner of the 9 hole course in the second category and Mario Buijs, with 23 points, turned out to be the runner-up of the tournament; María Buijs, was the best in her category of 3 Holes and finally Alex, stood out among our children from the Special Category.
Marcos Juan, sports director of Golf Ibiza and professor at the Children's Academy, gave a speech to thank all the parents for their support and for trusting the Academy.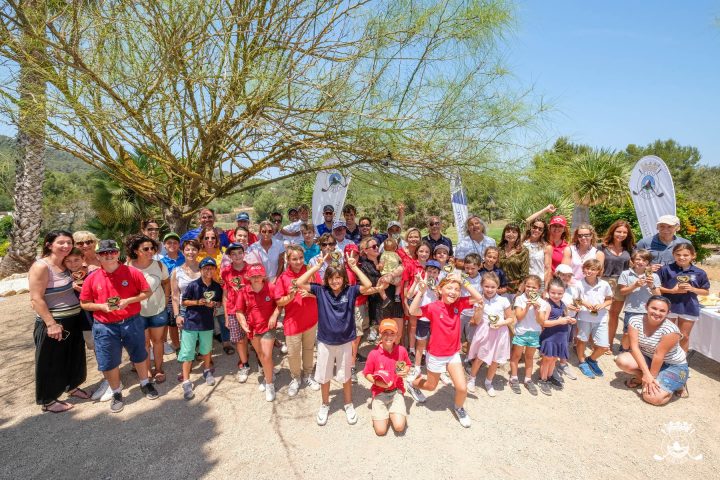 From Golf Ibiza we want to thank all the attendees for coming. We would also like to give a special thanks to David Álvarez, Marcos Juan and Germán Castillo, our teachers at the Ibiza Golf Children's Academy, for their dedication this season.
Classification
1st Category (18 Holes)
Jaime Jaume Julve (39)
Leire Oteo Vilalta (39)
Maxell Iveson (38)
2nd Category (9 Holes)
Mauro García Vallejo (25)
Mario Buijs Mariscal (23)
Nils Dupin (21)
3rd Category (3 Holes)
María Buijs (13 hits)
Joana (16 hits)
Julien (17 hits)
Special Category (1 Hole)
1º.-Alex
2º.-Romy
3º.-Nerea
Golf Ibiza by azuLinehotels