Are you thinking about an activity for your children this summer? Would you like for them some sporting activity while they learn to concentrate and having fun?
We offer you our children's golf lessons during the month of August. The Golf Children Course will be taught for weeks, so you can enrol your children per week or during the entire month. The course is for children from 6 to 12 years. The groups will be distributed by age and the activities will be adapted to the needs of the group.
The children's golf classes will be coordinated by the teachers and also, we will have a monitor of leisure activities. During the course will intensify the techniques of golf without leaving aside the fun. In addition, as the main novelty, we will make a trip on Wednesdays with golf activities.
Calendar of the activities
The children will practice activities in different types of game: putt, long game and putting green. During the different games, they will learn great golf techniques, with the help of our teachers Maros Juan, Sports Director of Golf Ibiza and David Álvarez, the specialist in golf and responsible of the Golf Children´s until this moment at Golf Ibiza. Also, at the Golf Children's Course will be leisure activities, where children can have fun and practice everything they are learned. This year we will have a dining service.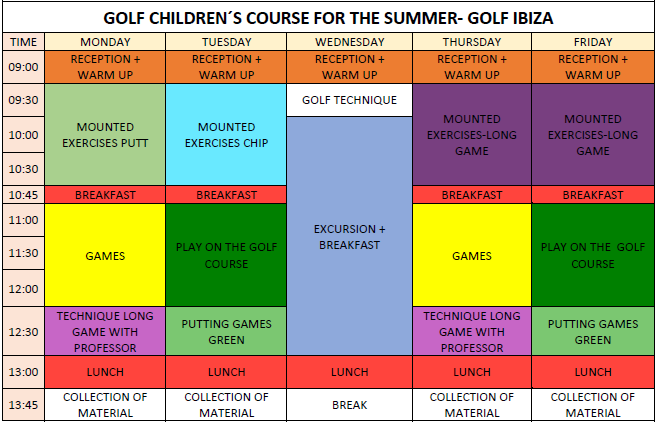 Golf Children´s Course Schedule
The schedule will be from Monday to Friday from 9:00 a.m. to 2:00 p.m.
For children who do not want to hire the food service will be prepared extra activities.
All students of the Golf Children's Course will receive a trophy at the end of the course.
Registration, prices and reservations
For registrations and reservations, you can go to the reception of Golf Ibiza.
The price of the August month complete with dining service is 600€.
Weekly price with dining service: 150 €.
Weekly price without dinner service: € 100.
Registration period from 24 to 30 July, always being able to incorporate more children weekly.
The minimum for registration group is 8 children and the maximum, 12 children.
During the Golf Children´s Course, the children will have lots of fun, they will play sports and will learn to concentrate. Golf, friendship and fun, is a great combination for your kids this summer! And everything in a unique and natural atmosphere in Ibiza. Sounds good!
This summer, we are waiting for you at Golf Ibiza!
Golf Ibiza by azuLinehotels