The next Saturday, August 31st, the I Le Club Tournament will be held at Golf Ibiza.
Le Club Golf is the best golf network in France and Spain. It counts on more than 180 golf courses in Spain and France and more than 1000 in the world (United States, Portugal, Ireland, China …)
To take part in the tournament, all players need to be registered in the Le Club network. The Golf Ibiza reception team will take charge of these registrations on the network.
At this tournament, there will also be a cocktail and awards ceremony at the Hoyo19 restaurant.
Joining LE CLUB GOLF allows you to benefit from 20 to 30% discount on green fees with Classic or Gold cards. The program offers green fees, discount coupons and hotel accommodation + golf in France and Spain.
Tournament bases and schedule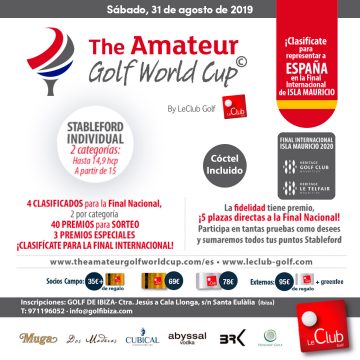 – Starter gun departures: at 9:00 a.m.
The tournament will be played under the Stableford rules, on the 18-hole "Golf de Ibiza" course and all players with license and handicap in force can participate.
There will be two categories, many prizes, and incentives.
– The arrival of players and guests at Hoyo19: From 1:30 p.m.
– Trophy awards: At 2:30 p.m.
Inscriptions
Registration is open until Friday, August 30, at 12 noon.
Registration directly with Golf Ibiza, by phone 971196052 or by sending an email to info@golfibiza.com
Registration prices:
Members € 35 (registration + GOLD card freegift)
Non-members € 95 (registration + CLASSIC card freegift+ 1GREENFEE FREE)
GOLD CARD: € 69
CLASSIC CARD: € 78
Don't miss it! We'll be waiting for you!
Golf Ibiza by azuLinehotels