azuLinehotels Golf Clinic
On Monday, June 19th, a fun golfing day was held at Golf Ibiza for employees of the hotels in the azuLine Hotels chain. The head receptionists of all the hotels were summoned to come and get to know the installations of Golf Ibiza and to discover this exciting sport at the hands of our great professionals.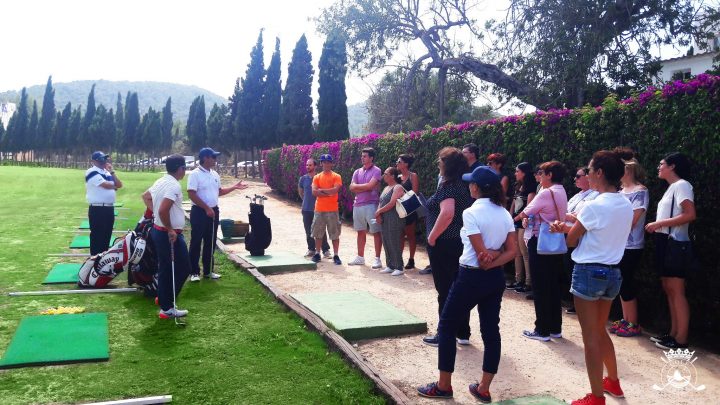 The clinic began around 4 pm and ended around 7 pm. A group of twenty people visited all the facilities of Golf Ibiza and participated in a game of about 25 minutes instructed by the teachers of the Golf Academy.
Corporate Golf Director Juan Lebrón and Sports Director Marcos Juan welcomed their colleagues from the hotels, accompanying them during a tour of all the facilities of Golf Ibiza,
starting with the reception, the Proshop store, the Meeting room, the 19th Hole restaurant, and then arriving at the practice area our golf professionals began to instruct everyone in a golf Clinic composed of long game, putting green and chipping green.
After much laughter and fun moments in which our colleagues discovered how exciting and entertaining it can be to make golf strokes and reach a good swing, the clinic ended with a magnificent guided tour of the 18-hole golf course, Ibiza, and the 9-hole golf course, Roca Llisa, where everyone got to know the courses from the hands of the teachers of the Golf Academy and Juan Lebrón.
Afterwards, there was a training session in the Meeting Room to show everyone the operation of the booking engine of Golf Ibiza, and in this way, to enable them to attend to all the reservation requests of our clients directly from the reception of any of the hotels of the azuLine chain. In addition, all clients of azuLine Hotels will enjoy a 20% discount off the standard rate on all green fees of Golf Ibiza.
Golf Ibiza by azuLinehotels