Carnival has arrived bringing lots of fun surprises for the little ones! This upcoming Saturday, February 24, we'll be hosting our 2nd Kid's Carnival Tournament at Golf Ibiza followed by an appetizer and special prize for the best costumes.
The Tournament will be divided into two groups: children over 10 years old, starting at 9:30 am from "Roca Llisa" golf course and another group for younger children starting at 11:00 am. Join us at 12:45 pm for an appetizer after the Tournament, in which we'll be giving away amazing prizes for the 1st and 2nd best costumes of the Tournament. At 1:00 pm we'll be awarding the trophy to the Tournament's winners.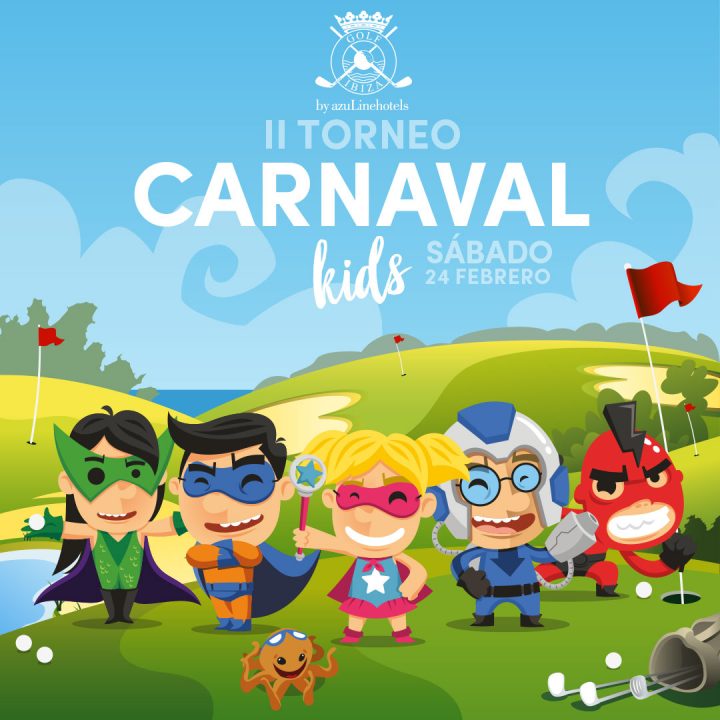 It will be a fun day at Golf Ibiza. We are looking forward to seeing your costumes.
Tournament Time
Children over 10 at 9:30 am from "Roca Llisa" golf course
Children under 10 at 11:00 am from "Roca Llisa" golf course
Kid's Menu
Ham and cheese sandwich, Nutella sandwich, chicken nuggets, chips, sodas, and water.
Sing Up Fee
8€/ kid. Payments should be done at Golf Ibiza's front desk. For more info, please call +34 971 19 60 52 or send us an email to info@golfibiza.com.
See you soon!😉
Golf Ibiza by azuLinehotels