"GOLF DE IBIZA" COURSE: 18 holes
Set in the most rugged part of the valley, with narrow lanes and numerous natural and artificial obstacles, its 18 holes each have a name referring to its most outstanding […]
Set in the most rugged part of the valley, with narrow lanes and numerous natural and artificial obstacles, its 18 holes each have a name referring to its most outstanding geographic or aesthetic quality, being, therefore, one of the few golf courses of the islands with the custom of naming the holes.
With spectacular lanes adapted to the terrain, its slopes demand a high risk tactical game especially in what concerns hole 4, with a very risky outside limit, hole 7, with the most pronounced incline of them all, and hole 14, straight and completely in descent.  Although it is the holes 16 and 18 that most exasperate players who reach them with a good score as they are the most problematic. In short, a hard round, in which there is no easy hole and where to play is a real challenge for golf lovers in all categories.
Call us at
+34 971 19 60 52

or email us at

info@golfibiza.com

Golf Ibiza, a unique environment

Let's Talk?
"GOLF DE IBIZA" COURSE: 18 holes
---
Field of practices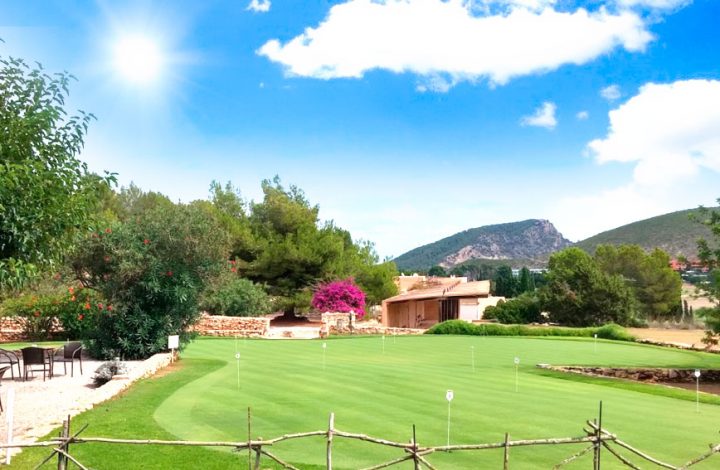 Warning: Use of undefined constant ID - assumed 'ID' (this will throw an Error in a future version of PHP) in /home/golfibiza/public_html/wp-content/themes/golfibiza/page-templates/el-campo-18.php on line 206

Notice: Trying to get property 'post_excerpt' of non-object in /home/golfibiza/public_html/wp-content/themes/golfibiza/functions.php on line 161

Notice: Trying to get property 'post_content' of non-object in /home/golfibiza/public_html/wp-content/themes/golfibiza/functions.php on line 162

Learn more
Conoce todos los detalles
de nuestro campo de prácticas
Pictures
Views you can embrace